| | | | |
| --- | --- | --- | --- |
| Sauer Energy Schedules Its Wind Turbine for Formal Wind Tunnel Testing; Contracts University of Washington Aeronautical Lab | | | |
SOURCE: Sauer Energy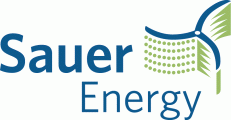 Mar 09, 2011 07:55 ET
NEWBURY PARK, CA--(Marketwire - March 9, 2011) - Sauer Energy, Inc. ("SEI") (OTCBB: SENY), a developer of home and enterprise scale vertical axis wind turbine (VAWT) systems, today announced that it has scheduled the Sauer wind turbine for formal wind tunnel testing later this month. The Company has contracted with the University of Washington Aeronautical Laboratory ("UWAL") in Seattle, Washington, to conduct wind tunnel testing of its home and small and mid-size enterprise pre-production model.
Sauer Energy's goal is to obtain various test measurement data for the final production iteration of its turbine with emphasis on the "power curve" which plots electricity output at various wind speeds. Various tests will include flow visualization, balance, RPMs, power performance and power voltage and others. Upon analysis of this data, SEI engineers -- using specialized computer models -- will be able to further refine the design, minimize drag and improve laminar flows to increase the power curve as well as evaluate and select the optimal generator and other components.
"This is a long awaited important step, and the excitement is growing that Sauer Energy is now crossing the threshold from design into reality," said Dieter Sauer, Sauer Energy President and Chief Executive Officer. "The testing is scheduled for March 28. With third-party validation, this will be a key catalyst toward commercialization and manufacturing."
Following completion of wind tunnel testing, to include any additional testing of any modification, the Company plans to submit its design to the American Wind Energy Association's (AWEA) Small Wind Certification Council, or SWCC. The SWCC would then begin testing to certify that the turbine meets industry standards of safety, durability, vibration, noise, performance, power, longevity and more which would enable the Company to print validated sales sheets and begin selling to distributors and resellers.
Aerospace and mechanical engineers use the wind tunnel as a major tool to improve aerodynamic design and effects. While computational Fluid Dynamics (CFD) and other design tools are insightful, wind energy engineers have to build real models and let real air flow to them to get genuine performance numbers. The wind tunnel is the final stage in the design process that calculates and refines the aerodynamics for maximum results before fabrication can begin.
About University of Washington Aeronautical Laboratory
The University of Washington Aeronautical Laboratory is a testing organization under the Department of Aeronautics and Astronautics. The primary aerodynamic testing facility is the F. K. Kirsten Wind Tunnel. Opened for testing in 1939, the tunnel, itself, is a double-return, closed circuit wind tunnel. It is comprised of two 500 horsepower motor drive, 14 foot, 9 inch diameter, seven-blade fans to provide testing for up to 250 mile per hour air speed. For more information, please visit www.uwal.org
About Sauer Energy
Sauer Energy is commercializing what it believes to be revolutionary patented technology in its wind turbines that is designed to make them highly efficient and productive while being small and affordable. It targets the individual home and small to mid size enterprise in urban or rural areas. The patented design is a compact vertical-axis wind turbine (VAWT) that can be sited on location without being intrusive. It is designed to be integrated directly into existing building structures and may be roof mounted or stand alone. For email updates about the Company's progress and additional information, please sign up at www.SauerEnergy.com.
Forward-Looking Statements
This news release includes forward-looking statements made pursuant to the safe harbor provisions of the Private Securities Litigation Reform Act of 1995. While these statements are made to convey Company progress, business opportunities and growth prospects, readers are cautioned that such forward-looking statements represent management's opinion. Whereas management believes such representations to be true and accurate based on information and data available to the Company at this time, actual results may differ materially and are subject to risk and uncertainties. Factors that may cause actual results to differ include without limitation: dependence on key personnel and suppliers; SEI's ability to commercialize its wind turbine technology; ability to defend intellectual property; wind turbine material and component costs; competition; economic conditions; consumer demand and product acceptance, and availability of growth capital.
Additional considerations and risk factors are set forth in reports filed on Form 8-K and 10-K with the SEC and other filings. Readers are cautioned not to place undue reliance upon these forward-looking statements; historical information is not an indicator of future performance. The Company undertakes no obligation to update publicly any forward-looking statements.
Contact:
Sauer Energy, Inc.
Dieter Sauer
President/CEO
(888) 829-8748
www.SauerEnergy.com